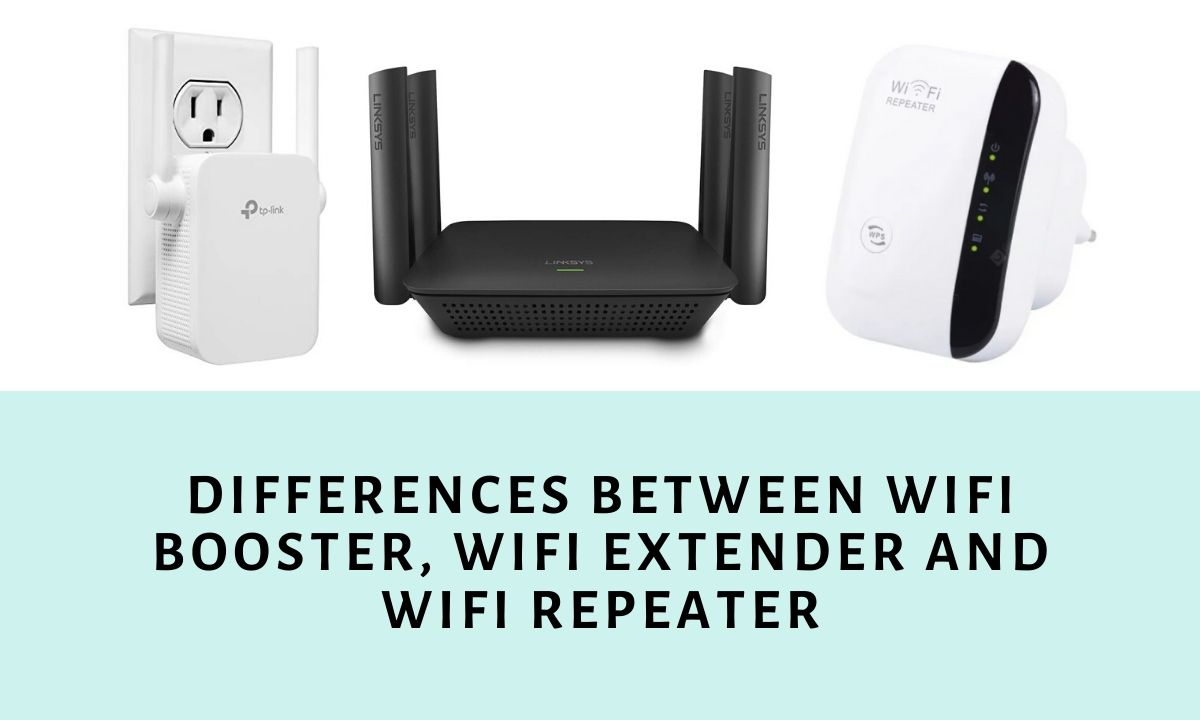 One of the main things that have helped to revolutionize this era is the prevalent use of the internet. Talking about the internet, the services of Wi-Fi are irreplaceable. However, it must be noted that the device that you use to amp up your WiFi is of utmost importance. There are various devices that help in facilitating high-speed internet transmissions. Choosing the one that suits your needs and requirements is a critical step in amping up your WiFi. Primarily there are three devices that are used for facilitating better WiFi transmissions, namely, WiFi booster, WiFi extender, and WiFi repeater. Let us have an elaborative review of the three of them and what differences selecting any one of them can make in speeding up the transmissions.
If you are looking out for reliable and fast Wi-Fi around your entire house, you might face certain complications as well. There might be cases when the signals will be dropping off in the backyard, or, there would be certain locations upstairs where the WiFi won't be working with high speed. The performance of WiFi, unlike electricity, can be temperamental in different parts of the house. Even if you equip your house well with metal appliances, specific devices, and architectural features, the most effective of the WiFi routers can miss some spots. In such a scenario, wifi boosters, also referred to as WiFi extenders can effectively enhance the performance boost to your network coverage. A WiFi booster extends wifi network coverage space by boosting existing signals. The wireless devices that are available in the expanded coverage space get connected to the internet or a similar wireless network with the use of a WiFi booster. A WiFi booster pulls existing weak wifi from the transmitter and then amplifies it before broadcasting the transmission to more spaces when needed. A WiFi booster can drastically come to your rescue if the diverse areas in your business premises or home have weaker transmissions over the internet. You can also check out the best WiFi Extenders reviews here.
A WiFi extender, on the other hand, is a device that aids in repeating the wireless signal from the router to expand its coverage. Functioning as a bridge, a WiFi extender simply captures the wifi from the router and rebroadcasts it to areas where there is weaker or nonexistent connectivity of the WiFi. It is plugged into electrical outlets and with the use of two antennas, the wifi extender receives, replicates and extends a designated connection. WiFi extenders are an apt choice for cafes, bars, restaurants, and other units that have multiple seating areas/floors and equipment like microwaves that can interrupt the transmission speeds.
If your wireless router transmits a strong signal, you can easily have the flexibility and convenience in network performance. However, a weak signal may lead to the unreliable performance of the network. In order to boost a weaker router signal to increase network performance, a small device named as a repeater is used. The repeater helps in picking up the signal that you transmit by your router and it amplifies it while sending the signal throughout your home or office. It facilitates the effective receiving of signals where the signals previously could not reach. It thereby promotes greater flexibility.
WiFi boosters, WiFi extenders, and WiFi repeaters primarily aid in enabling the devices to improve WiFi coverage. However, which device suits your individual needs and requirements is based primarily on your personal preferences. It must be kept in mind that often these terms are used interchangeably, but they work in different ways. Now before you make a decision about your selection for improving your WiFi availability we would recommend you improve your WiFi connection. For doing that all you need is to first update your wireless router's firmware by visiting the company's website and downloading its latest version. Many a time it happens that outdated firmware is the main reason behind slower wifi speeds, annoying bugs, and other connectivity issues. Once you have updated your firmware, you need to make sure that everything is connected properly. New routers especially come with technology to improve the coverage in your space. After following these, you need to move the Wifi router to a central location. Even after following these steps, you are encountering connectivity issues, then you need to purchase a device to improve WiFi coverage.
If you choose to go with a WiFi extender, you will be provided with a much more stable wireless connection. The bandwidth of your connection is not affected since the extenders simply replicate an existing network. If you are having a space in your house or office that has dense building materials and wireless interference, choosing a WiFi extender will serve you well. They are perfect for dead zones in your office, home or even retail space. WiFi repeaters, on the other hand, get connected to existing wireless networks in an area. With their strong antenna, the WiFi repeater captures the wireless signal and broadcasts it in a new location. The signal around the repeater gets strengthened but at the same time it's original bandwidth weakens by 50%.
Extenders or Repeaters, which is a better option?
WiFi extenders tap directly into your wired connection thereby not affecting your bandwidth. This results in extending your network to a new location without setting up a separate wireless network. Unlike wifi extenders, wifi repeaters limit the available bandwidth on your network. This happens because repeaters retransmit data back to the wireless router to function. The presence of thick walls can also prove to be a limiting factor in the working of repeaters because it limits the repeater's connectivity to the wireless router.
If you are still unsure about going out for wifi repeaters or wifi extenders, you should figure out whether there is significant interference in your desired area or not and whether you are concerned about reduced bandwidth or not. If there is a negation for you in both the conditions, using a WiFi repeater will be a better option for you. Otherwise, you can go with a WiFi extender.
At times these devices bring along with them a little bit of confusion owing to their scientific working. People who are not very tech-savvy find certain complications after they buy these devices and are unable to comply with certain aspects that the device needs for proper functioning. We have presented before you some of these queries and what you can do to get the best service from these devices.
Are wifi extenders and WiFi boosters the same thing?
On a layman's level they are the same. They simply aid in amping up your WiFi coverage. Bit on a technical level, not all WiFi extender work in the same way as the wifi repeaters.
How should you choose an ideal Wi-Fi extender?
Compatibility is the prime element that determines which Wi-Fi extender you should go for. It helps in facilitating better integration between the range extender and the router. You should look at the specifications of your router and you should have a clear idea about the standards that it supports. If this even doesn't work for you, then you should go out for a universal extender that tends to work on 802.11 a/b/n/ac routers.
How many WiFi extenders can you have in your house?
At a time you can use 2 WiFi extenders. But you should keep certain things in mind. The performance of the second extender is usually unsatisfactory. You should make sure that each of your WiFi extenders is connected to the main router.
Can WiFi routers be left on all the time?
Modern wifi routers are designed to be left on at all times but you can switch them off if they are not going to be in use for several hours. Even if you keep them on, your power usage will still be minimal.
How far can an ideal WiFi extender normally reach?
Talking in general, wifi routers that operate on the traditional 2.4 GHz band can reach up to 150 feet indoors and 300 feet outdoors. In cases of older 802.11a routers that run on 5GHz bands reach around one-third of these distances.
Where should a WiFi extender be placed?
A WiFi extender should be placed halfway between your router and your computer, but it should be kept in mind that the extender is in the wireless range of the router. If you want to put your extender into a different location you must move the extender closer to the device, but it should also be within the wireless range of the router.
Is a WiFi extender responsible for slower internet speeds?
The general answer to this question is 'no'. However, the WiFi extender slows down the devices that are using the extender. Moreover, if the speed of the WiFi that is coming directly from the router is slower than the speed of the internet, then the WiFi extender will be reducing the internet speed by around 50% for the devices that are using the extender.
Out of WiFi extenders and WiFi repeaters, which one should be chosen for better efficiency?
Talking about wifi extenders, they provide a more stable wireless connection as compared to wifi repeaters. Using a WiFi extender does not create a new network and thereby the bandwidth is unaffected. WiFi extenders get connected to the network through electric outlets.
This article would have clarified many of your doubts and idiosyncrasies that are related to WiFi boosters, extenders and repeaters. Now you must be having a clear idea about out of the three which one you should go for and which one will help you in reaping maximum benefits from your investment. Thanks for reading.