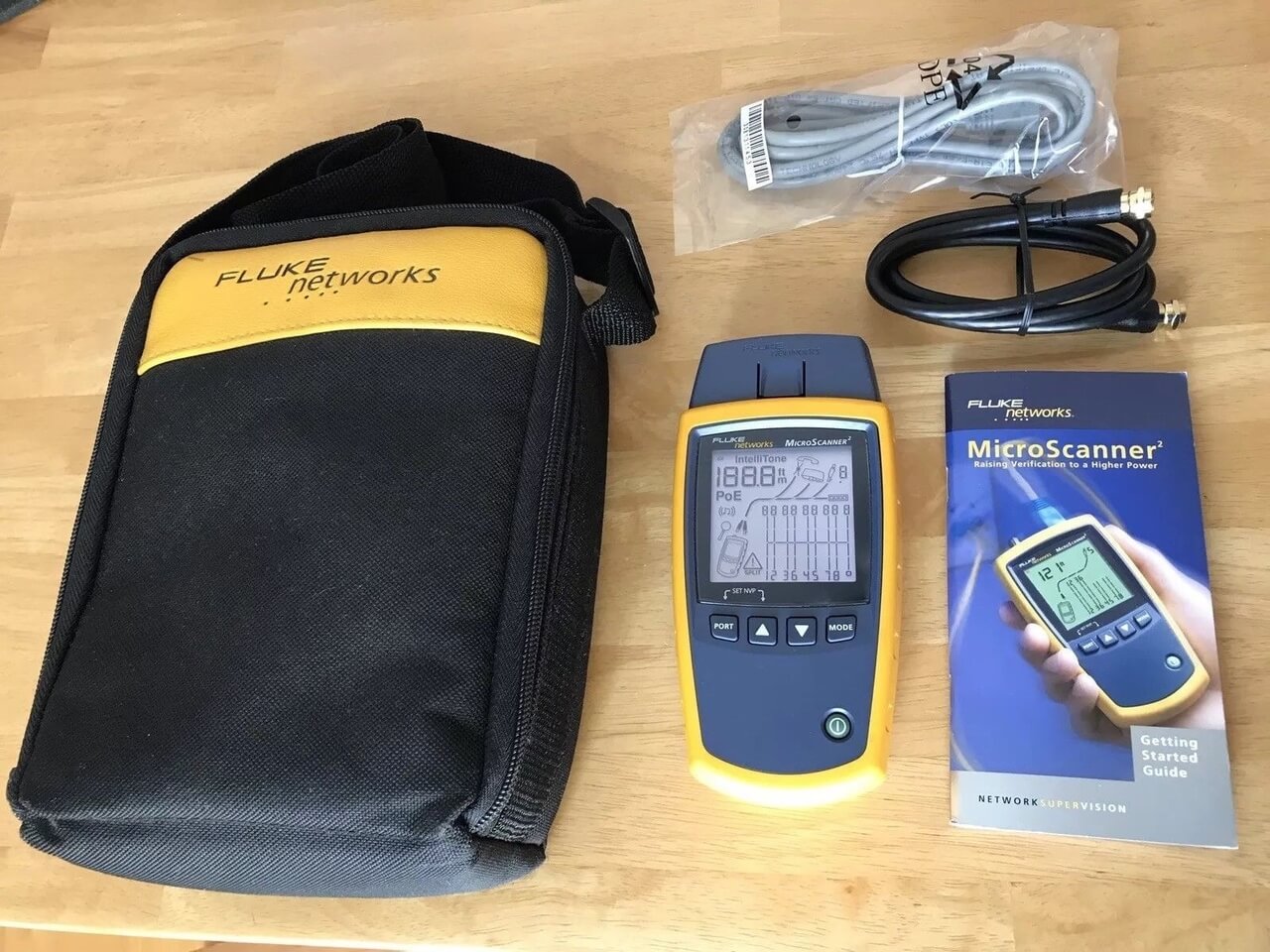 Finalviews.com receive some form of compensation from the links on this page, at no extra charge to you. Learn more.
Looking to buy a high-quality network cable tester from the Fluke brand? It is a terrific gadget that helps the technicians to test the strength and find out a technical error in the least possible time. Moreover, it is very easy to use that even homeowners can easily use it for identifying how high-speed cables are performing. 
Top 5 Best Fluke Network Cable Testers
However, finding the right one demands lots of knowledge that every buyer can't have. Our professional team has created the list of top 5 best fluke network cable testers available to shop after the extended testing process. We all know the Fluke brand has manufactured tons of models that can increase the confusion. Let's be a small buyer and checks out every model to find the excellent one. 
The list is going to be topped none other than Fluke Networks CIQ-100 thanks to its basic working process, features, and affordable price. It is a tremendous tester using which you can easily test the speed along with troubleshooting in the cables. The main portion of this unit is involved in performing standalone diagnostics, whereas a remote unit performs the cable testing.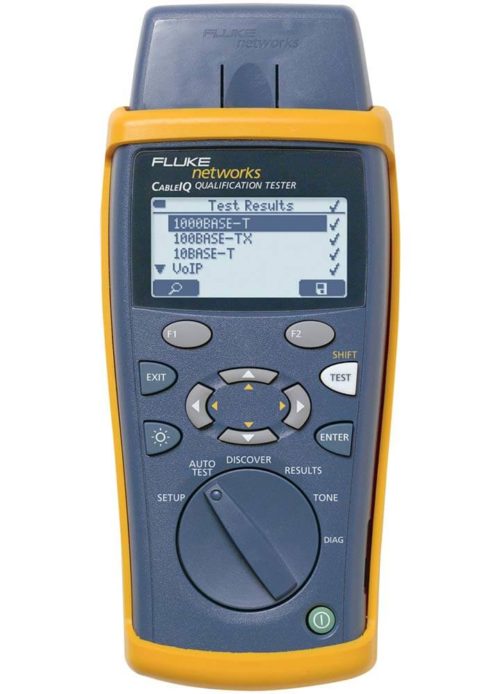 The bottom side is equipped with a mini-B USB port that transfers the test data to a PC and updates the device's software. There is a need for 4 AA batteries to power this unit as it doesn't come with an integrated power supply. Besides that, it comes with a rotary knob that allows the users to move between the different modes conveniently. On top of that, the functions above the LCD screen can be performed using the tow function buttons located on the unit. 
Going back in menus is also a very easy process due to the presence of an exit button located on the unit. Overall, we want to say it is a smart device that is equipped with lots of advanced troubleshooting features allowing the users to perform lots of functions like graphical wire mapping, power over Ethernet detection, and many more. 
Pros
Convenient & easy to use for beginners

Performs Ethernet switch detection perfectly

Doesn't hit too bad to the pockets

Backed by a one-year warranty

Cons
Doesn't come with rechargeable battery feature

After-sales support is average at its best
The next unit is a wonderful cable tester from Fluke brand that we have added in this list after verification in a variety of ways. There are a significant number of features in this unit that very few options offer in a cable verifier. It ranges from a revolutionary interface to VDV service detection, and multimedia support that can make the job of a tester easier.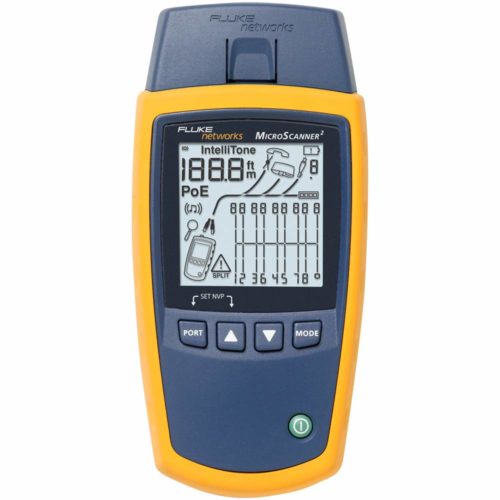 There are built-in RJ45, RJ11, and coax testing ports installed to the unit that gives the complete virtual support for testing all types of voltage cables without an adapter. Furthermore, finding a technician error will become very quickly if you invest money in this unit. Another highlight of this device is its integrated IntelliTone and analog toning ability using which the technician can locate damaged wire or cable conveniently. 
It has Fluke Micro scanner Pro feature that only not offer a top-quality vision, but also makes the detection work of cables very quicker. Additionally, it comes with a pretty large display that will show you a variety of results like cable ID, graphical wire map, fault distance, pair length, and many more. There is also an LCD backlit in the unit allowing you to see the number brilliantly even in sunshine. 
Pros
Crafted in a very rugged housing

Easy detection due to high-power vision

Locates damaged cables quickly

Minimizes testing time significantly

Cons
The mode button is made from poor quality material

Minor complaints about continuity
If you are looking for something that performs filtering tremendously, then we will say that the Pro3000 is one of the best Fluke network cable testers to shop in the market. It has an incredible tone & probe systems that will turn out to be a blessing for individuals who want to identify and trace faulty cables. You can switch on/off the filtering process simply by pressing a button on the unit. 
Tracing line becomes easier due to its ability to filters out the extra noise used by the unit. It is capable of transferring a loud tone up to 10 miles in the majority of cables. That's not all; it offers 5 distinct cadences to isolate individual wire pairs conveniently. The next feature that we find unique about this unit is its precise SmartTone technology that gives five distinct for perfect pair identification. 
The manufacturer has crafted the unit in an entirely ergonomic sleek construction that allows it to last long same for many years. The loudspeaker available in the unit let the users hear even in highly noisy environments. You can switch off between modes using the push button available on the unit. 
Pros
Switch on/off quickly using the button

Capable of filtering 60 HZ interference

Compatible with headphones

Create pretty loud noise

Cons
Doesn't come with replaceable batteries

Loud noise may irritate some buyers
The next unit we have placed on the fourth position is the MT8200-60 Kit that equipped with a variety of operating modes. It equipped with IntelliTone digital toning whose main job is to eliminate false signals as well as noise adequately. The signal strength and wire connectivity displayed by LED properly for better calculation. It is capable enough to locate cables from a certain distance.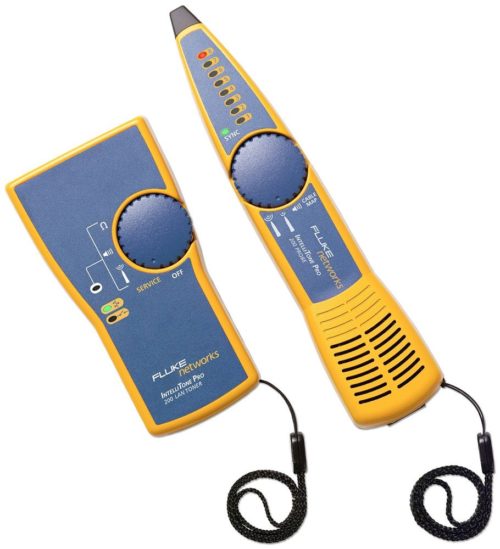 Unlike other cables, it provides digital & analogue signaling in a single network. The thing we want to say here is this unit is action-packed with the most robust set of cable location technologies allowing it works for different types of environments. That's not all; it offers a super-vision to the users for locating hidden cables in walls, floors, and ceilings quite easily. It is delivered by the company with a quick start guide for better learning.
The manufacturer delivers this unit with a set of 9-volt batteries making sure you don't have to buy anything separately. In addition to that, you will get many other things in the package like two lanyards, test leads, coax F connector adapter, and two RJ11 & RJ45 cables each. Overall, it is guaranteed that you are going to fall in love with the performance of this unit for sure. 
Pros
Delivered with a set of essential accessories

Identify cable quite conveniently

Minimizes signal bleed effect

Equipped with a powerful set of diagnostic capabilities

Cons
Few complaints about faulty hardware, but the numbers are too less

A little bit expensive to buy
5. Fluke Networks MT-8200-49A Copper Tester (Best for beginners)
If you are new to the world of testing and want to buy a model that can be easy to use, then we will suggest shopping MT-8200-49A without researching anything. It is simple to use verification tester that delivers with a high sort of accessories. The package comes with a user guide, 4 AAA alkaline batteries, patch cord and cable tester. It can work for a variety of people like an electrical contractor, network manager, datacom specialist, and home networking professional. 

The network professionals can easily verify the integrity of the cable using this fantastic equipment. It comes with an integrated tone generator that is compatible with the IntelliTone Pro Probe letting the users tracing cables quite easily through ceilings, floors, and walls. Other than that, the unit delivers with a remote unit that allows even a single person to test install patch cords and cabling with minimum effort. 
No matter, you want to eliminate faulty cables or just looking to make some changes, this cable tester will help you in a tremendous manner. In fact, we will say it is the perfect model from the Fluke brand that can work as an excellent defense system for identifying connections along with wire pairing faults. 
Pros
Deliver quality connections

Easy to operate for beginners

Perform wire mapping properly

Notifies about faults with LEDs 

Cons
Slightly overpriced model

Not beneficial for top-notch professional use
Why will you choose a network cable tester from Fluke brand?
Do you still have confusion in your mind about whether to invest in the products manufactured from Fluke brand? Well, it is quite common to thought about why to spend money on this brand when there are tons of options available in the market. Let us give you some essential reasons below in detail:
They are involved in the manufacturing & selling operation of electronic & measurement instruments for nearly seven decades. 

Apart from selling things to the public sector, the company is also manufacturing equipment used by government, educational, scientific, and educational departments in various countries. 

There is a diverse range of network cable testers manufactured by Fluke that give something for all types of professionals. It makes sure everyone can find the right model according to their requirement. 
How we have selected these models? Buying Guide
As we have already written, there is an excellent range of cable testers manufactured by Fluke brand. The thing can become complicated to find the right model according to the requirement. Here, we are going to tell you about the things that we have checked before finalizing the model below:
Budget
No matter, you are a beginner or have ample experience in the field of networking, there is a need to buy a network cable tester after keeping budget in mind. We have added the units in all types of budget ranges making sure no one has to avoid purchasing a network cable tester due to price issue. 
Performance
The primary purpose of a network cable tester is to repair and maintain the existing cables. That's why you will see every model in this list has provided details of data transfer along with identifying the faults adequately. You will see that the features of this model perform its job with ease. Buy the model once it has the required set of qualifications in the unit. 
Ease of Use
The next thing we take into consideration is how easy it is to use the network cable tester. That's why you will see that our team has added products ranging from the professional level to beginners. You should be a smart buyer and chose according to your skill level instead of straight jumping on the features. 
Durability
Having the right level of features isn't everything as there won't be any benefit if the physical construction is cheap. The thing that our team has ensured during the selection process is to make sure every model has a solid casing allowing the model to last long for years. Please ensure the network tester you are shopping come with the desired level of sturdiness and durability. 
FAQs
How does a network cable tester perform?
It transfers the signal from one end to the other through cable in the same way as a computer system. Additionally, a network cable tester identifies the tones that come from devices on the other side of the cable like a switch or a computer. 
Is it worth to invest money in a Fluke network cable tester?
It is totally worthy t spend your money on a network cable tester from Fluke brand. We have already explained the authenticity of the brand along with telling about their great range. The chances of facing issues with this unit are quite rare, and there is a full possibility you will find its performance satisfying. 
Conclusion
That's all; these are the best Fluke network cable testers you can buy from the market. Every model is robust in its manner and capable of fulfilling the buyer's needs convincingly. Decide which one will work for you and shop it now. Don't forget about telling us about the performance of the unit you buy!