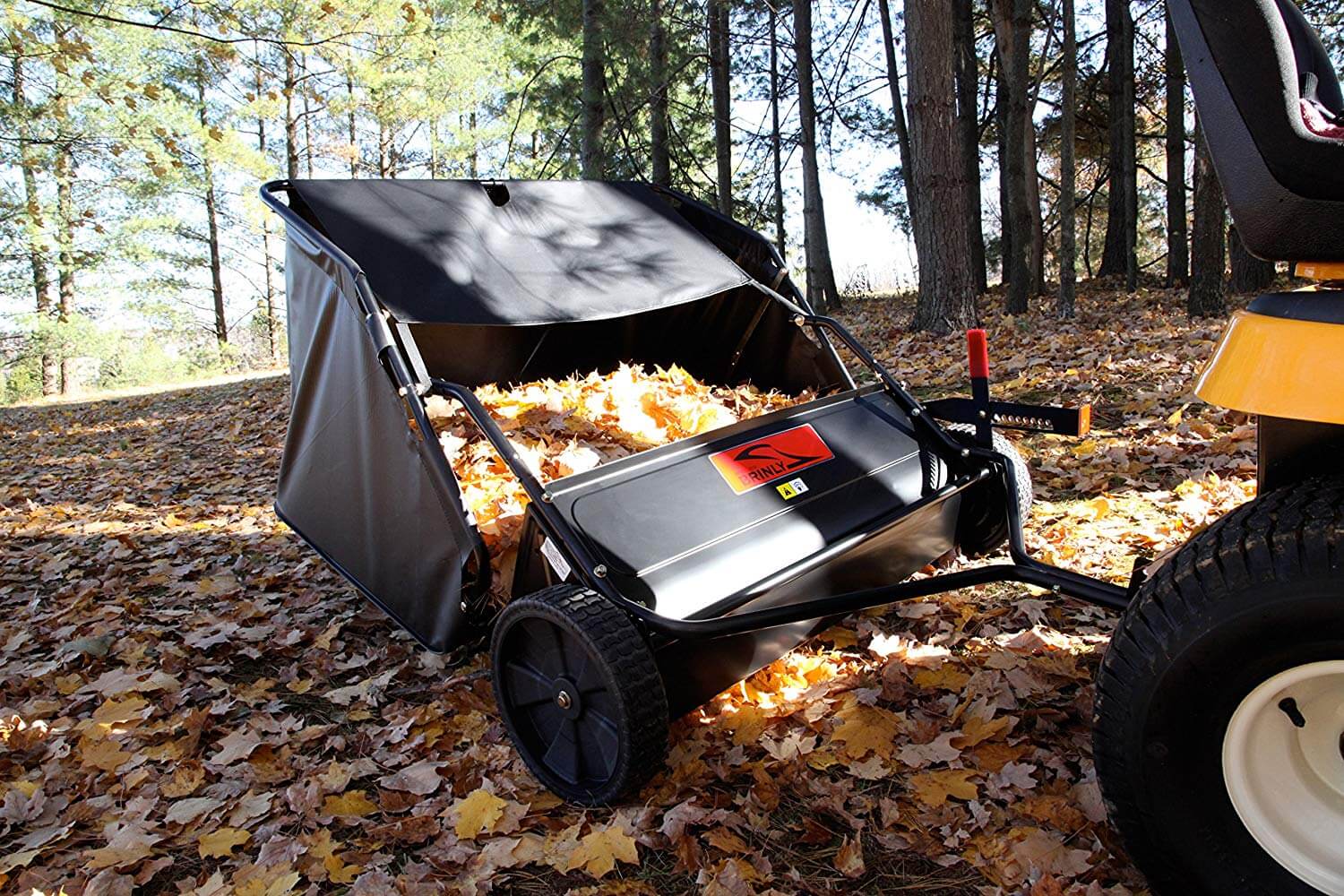 Are you looking for authentic Brinly lawn sweeper reviews that help in deciding the right model? The internet has become full of fake users that can confuse the buyer's mind that our team never wants. A highly advanced sweeper is amazing tool that allows the users to clean all the debris & leaves from the lawn. After all, everyone loves their lawn & wants to make sure it stays clean. 
Buying a lawn sweeper is a brilliant choice that lawn owners can make for boosting the beauty of their lawn. For helping our reader base to make the right choice, our team is going to review Brinly STS-427LXH lawn sweeper that is one of the premium models available in the market. Each of the smallest features about this unit will be covered convincingly for making sure the readers can make a brilliant choice. Let's begin the review without any further delay.
Introduction
This model from Brinly brand is a high-quality lawn sweeper using which one can easily sweep up old grass, leaves, clippings, and pine needles, among others. It is a top-grade unit that considered one of the most powerful sweepers to shop for your lawn. With six high-velocity brushes & patented storage construction, you can expect this tow behind lawn sweeper to perform better than your expectations. 
You may also check Ohio Steel Lawn Sweeper Reviews
There is an ample level of storage provided thanks to the presence of a 5:1 brush to wheel ratio. The manufacturer can pick up debris even from the toughest terrains with ease. On top of that, it has a high-quality fabric hamper that can hold a lawn material up to 20 cube feet.  Emptying it is quite easier from the right side of the tractor due to the pull-rope that located there. 
Another thing that needs to mention about this unit is its modern twist-lock height adjustment feature that ensures that brushes stay at the place even if there is an uneven or rough terrain. 


What are the major features in Brinly STS-427LXH?
It is the most important part of this post where we are going to talk about the features of this lawn sweeper in detail below: 
Extremely Spacious Collection Bag
The total capacity of this unit is 20 cubic feet that are more than enough for an average lawn. The company has used highly durable poly weave fabric for making sure that the product lasts much longer than your expectations. 
Furthermore, the storage bag gets collapsed for making storage easier & convenient. 
High-performance Sweeper
As we have already explained, the major highlight of this sweeper is its top-grade sweeper that can pick all types of debris ranging from pine cones to grass clippings and even small leaves that left by others. The main reason for such a performance is its high-velocity brushes that don't leave any mess on the ground.
Additionally, the manufacturer has designed it with a pretty high 5:1 brush to wheel ratio that ensures the rider can make quick turns without any issue. It results in providing greater maneuverability to the lawn cleaning system.
Two-years warranty
The next thing that we want to mention about this unit is its impressive 2-year warranty that one can't find in too many sweepers. The company has performed incredible craftsmanship on this unit that allows them to give liberty to provide such a warranty. 
It means you will get complete peace of liberty after buying this sweeper for the next two years.
Modern Twist Lock Height Adjustment System
There is a non-slip height adjustment system added by the manufacturer that allows the users to select brushing height according to the need. It allow the unit to move pretty convincingly even on the tough to move terrains. 
The brush height setting in this unit is very easy to use, even for a beginner without any worry. 
Patented Storage Construction
There is no chance that you will ride this lawn sweeper all the time. It means you have to store the machine at a certain amount of time. However, things become difficult with the tools that take lots of storage. 
This sweeper is crafted in a patented storage design that makes storage convenient. You will only need minimal space for this purpose. 
What we find most convincing about this sweeper?
As you can see, this sweeper has all sorts of features that required for cleaning the lawn quite easily. Writing about the major benefits of this unit is a very difficult task, but our team has tried to narrow ones mentioned below:
This sweeper is capable of picking even the tiniest particles from the lawn, including grass clippings, leaves, etc. 

There is a clear set of instructions provided by the company for making sure that even a complete beginner can understand it. 

The assembly process of this lawn sweeper is completely straightforward. The manufacturer delivers it in the semi-assembled condition reducing the headache to a greater extent. 

The product offers a perfect value to the money for the buyers that ensure you don't have to put too much pressure on the pocket.

It is crafted in a patented storage construction that allows the users to store the sweeper even in a limited space. 
What don't we like about this sweeper?
Despite having a great set of features, there are some flaws that we want to mention about this unit in detail below:
The quality of height adjustment knob needs improvement as there are many cases where it falls off after some months of use.

A few complaints about misprinting in the instructional manual.
You may also check Ohio Steel Lawn Sweeper Reviews
Conclusion
The Brinly STS-427LXH is one of the most amazing lawn sweepers that we have ever reviewed until now. It is a powerful product that can eliminate debris & leaves with minimal effort. Moreover, the unit has an extremely patented collapsible design that ensures buyers don't have to worry about the cleaning process. We hope that Brinly lawn sweeper reviews will help the readers in making the right decision. Happy Shopping!